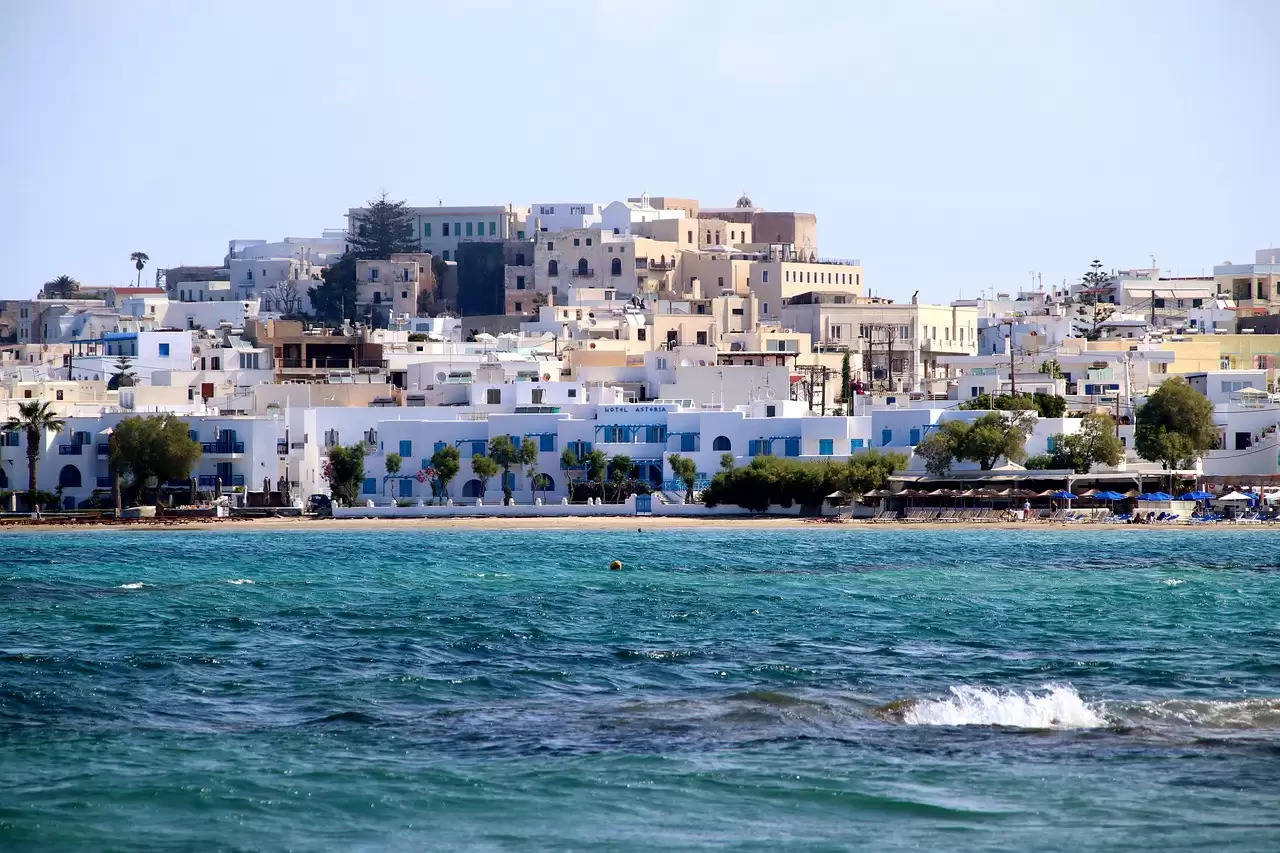 ---
"And above all, watch with glittering eyes the whole world around you because the greatest secrets are always hidden in the most unlikely places" – Roald Dahl
Truly, if you have the wanderlust and are looking for a relaxed, far-from-the-maddening crowd experience, then it is time to try something off-beat. While most of us get swayed by the trending travel destinations that speckle the Internet, what we fail to realize is that most of the rave reviews about these hot vacationing destinations tend to crop out the worse part – the overkill of tourists!!
So it's time to give a fair chance to some of the "off-the-beaten-path" holiday destinations. Untouched by the touring crowd, these locales offer a similarly exciting and wholesome travel experience as their more popular counterparts and are definitely worth a try.
Check out 9 of such off-beat replacements to the #trending holiday spots across the world that are worth your money spent.
1) Naxos, Greece
For most travelers, a trip to Greece is synonymous with Santorini! While there is no denying the elegance and charm of the Cyclades, especially Santorini's scenic extravaganza and the Oia sunsets, another destination that can give you an idyllic off-the-beaten path flavor of the Greek beauty is the island of Naxos.
This island that is also the largest archipelago in the Aegean Sea, with its typical Mediterranean climate, beautiful beaches and traditional sea-side, fishing villages can be quite an alluring alternative.
Unspoilt by proliferate tourism, Naxos is marked by Cycladic architecture along narrow lanes that bespeak of Greek charisma reminiscent of yesteryears.
Take a hike to explore its dramatic interior landscapes intercepted with innumerable statues, temple ruins and mountains that have whole sides of marble or a cycling trip along the trails to explore quaint villages like Chalki and Apieranthos, savoring not just the sights but truly mouth-watering local delicacies.
While Naxos doesn't boast of highly impressive sites, ancient Iria, ancient aqueduct and the Temple of Demeter are some major attractions here.
St. George beach gives ample opportunities to dabble in water sports like windsurfing & waterskiing; and you can end your day to the sounds of some great violin pieces with the sun setting in the distance!
2) Margaret River, Australia
Margaret River, a small south-western Australian town near Perth, makes an excellent choice for a holiday.
Identified as a premium wine-making and surfing area, this quaint town lies stretched along the Cape to Cape Walk Track, fringed by limestone caves and sea cliffs off the Western Australian Leeuwin-Naturaliste National Park.
Margaret River's mild weather with an abundance of sunshine make it an ideal vacation spot for surfers. Lush Karri forest trails and plenty of opportunities for outback adventures further add to its attraction.
Situated 20-minutes' drive from Margaret River, the Lake and Mammoth Caves, ornamented with exquisite limestone and crystal formations, are worth a trip.
Another must-visit attraction here is the Devil's Lair cave, just out of Margaret River, that still carries artifacts and remains dating back to the Noongar people who habited this area at least 50,000 years back.
For the foodies, Margaret River has thriving truffle-growing and craft breweries industries.
Sip into some excellent collection of Pinot noir as you watch the sunset over the Indian Ocean at Prevelly's Surfer's Point. And, if you happen to visit between June & November, you would even be lucky to catch sight of some migratory whales that these waters host.
3) Alacati, Turkey
While tourists flock the myriad locales spread across Turkey each summer, the hottest destinations among the jet-setting crowd of Turkey is Alacati – an elite hide-out in Turkey's Izmir province.
A perfect medley of Turkish culture with a garnishing of Greek history, this small town on Turkey's Çeşme Peninsula is characterized by spectacular Aegean beaches with world-class windsurfing options, old stone architectures along cobblestoned streets, modest boutique hotels, outdoor bistros, and an age-old winemaking tradition.
You can choose to enjoy a lazed day or a happening night at one of the bars and restaurants that fringe its cobbled streets!!
Alacati is a world-acclaimed windsurfing center since the nineties, with the Port Alacati Marina in the south, with its steady winds, boasting of a world-class water sports center.
If you are not heading down to the coast, Alacati has some impressive sites to make your day. A visit to the 16th Century Ottoman Çeşme Castle, in the northwest, is not out of question.
This historic site gives you a glimpse of centuries' old artifacts and is definitely worth a day tour! Another one is the Ephesus, just under two-hours from Alacati, with its UNESCO listed Terraced Houses – a highlight of Ephesus.
You may also want to hitch a short ferry ride to the Greek island of Chios or take a 3-hours' road trip from Alacati, to the breathtakingly beautiful Pamukkale Thermal Pools, filled with natural hot water springs, as they cascade down terraced inclines.
But the real bonus of a holiday at Alacati is perhaps a visit to the blossoming vineyards in nearby Urla and Izmir for a wine-tasting session.
4) Namibia, Africa
Africa, with its safaris and diverse landscape, is almost a No.1 on everyone's vacationing bucket list.
But while South Africa has its own charm, it is the much-unexplored Namibia with its clear weather and endless horizons that steals the show as the quintessential African vacationing destination.
Not only is Namibia the fourth largest country in Africa and home to one of the biggest (albeit little known!!) game parks in the world – Etosha National Park, part of its allure also lies in its diversified terrain that spans four different landscapes adding to its scenic beauty!

While the south of Namibia is covered by the expansive Namibia Desert with its epic migrating dunes – second to Sahara in area! -on another side it has the Namibian Skeleton Coast running along its length – so named after the shipwrecks that this rugged coastline is witness to for centuries.
Intercepted with several volcanic mountains, Namibia's Kavango and Caprivi tropical forests that have long been an attraction for the intrepid traveler, today boast of several ultra-luxe safaris and desert resorts set in the midst of their bio-diverse landscape.
Experience the natural abstract beauty of this destination and fall in love with its rich magnificence!
5) Essaouira, Morocco
A trip to Morocco usually starts and ends with Marrakech for most travelers. But as exotic a destination it is, it can be quite an exhausting experience with the hordes of tourists brushing by here.
Enjoy the same elusive charm, minus the crowd, at Essaouira – a bustling port city on Morocco's Atlantic coast. You may very well mistake Essaouira to be a town in Brittany, France with all its French charm (having been designed by same architect who designed the French port town, Saint-Malo!).
But despite the apparent French touch, it is infinitely Moroccan -right from the narrow alleyways filled with women walking down in white haiks (veils) to the aroma of the damp sea air mingled with spices or the sound of pleasant Gnawa music reverberating from the red city walls that are lined with old brass cannons!
This off-beat African beach town with its sumptuous seafood, fishing harbor and stunning ocean views from the Skala, is a popular destination for surfing, kitesurfing and windsurfing, thanks to the strong "Alizee" winds!
While on the beach, catch a glimpse of flocks of Eleonora's falcons on the Île de Mogador.
For the ones who prefer some sight-seeing, the view from Skala de la Kasbah – the 18th-century seafront bulwark that surround the medina or old town is a splendor.
Another great attraction of this place is one of the oldest restored hammam that bespeaks of traditional architecture and comes solar-heated!! You can try a value-for-money relaxing argan-oil massage here.
Indulge in a truly photogenic vacation with the splendid North-African styled houses overlooking the beautiful marina straddled with wooden boats painted in a rich blue shade, with seagulls soaring in the skies.
6) Anguilla, Caribbean
If the strings of tourists and glitzy resorts drive you nuts and you are looking for a place to seek respite, Anguilla is the answer to your prayers. Just 4-miles south off and a 20-minutes short ferry ride from the famed French town, St Maarten, lies the northern-most Caribbean island of Anguilla.
This 37 square-miles of desert island located in the leeward chain of the Lesser Antilles islands houses over 33 white sand beaches that are broken by the pristine Caribbean waters.
Scilly Cay as well as the Rendezvous Bay offer idyllic locales for spending a relaxed day swimming or sunbathing and feasting on some fresh lobsters.
The warm Anguillan hospitality adds to the charm of the place. And, if you happen to be around the time of Anguilla's annual summer festival, some great calypso music awaits you.
Nothing gets better than enjoying live reggae as you watch the sun set over Barney Bay!
7) Santa Juana, Costa Rica
Next time you think of a vacation in Costa Rica, Santa Juana it is! Set in the Fila Chonta Mountains that form part of the southern highlands of Costa Rica, Santa Juana is a sneak peek into the bio-diverse Central American forests.
Far from the stressful life of the modern world, in the lushness of the palm tree plantations, rests this amazing vacationing destination that stimulates your senses to the real flavor of rural living.
Stay at a traditional Tico village, resplendent with the sounds of wildlife among the light rustle of the many waterfalls and enjoy the variety of activities across this jungle-covered panoramic locale. Or you may choose the suave Santa Juana Lodge!
Yes, Santa Juana has it all – from mountain tours on horseback or golf cart to a hike to one of the secluded waterfalls on the River Rodeo for a refreshing waterfall swim or a hand at tilapia fishing – there is no dearth of what you can do while here.
Hitch a ride to one of the traditional villages to discover how the locals extract palm sugar juice using ox-carts, take a quick tour to a coffee plantation in the rainforest or simply stroll through the quaint and charming town of Santa Juana. What's more, you get to end your day with a traditional Campesino-style lunch.
8) Icehotel, Jukkasjarvi, Sweden
If you can rough it with a little cold weather, a trip to the tiny village of JUKKASJÄRVI (locally called "Jukkas"), about 200-km north of the Arctic Circle, is an obvious destination! Wondering what you would do here?
Let's start with the star attraction of the Swedish Lapland –ICEHOTEL. Effectively world's first and largest igloo, this hotel that is made almost entirely from ice was founded in 1989 along the Torneälven River, where it stands till the rising summer temperatures melt it back into the river.
Rebuilt every winter in a new guise, this unique hotel has everything carved out of ice – from the guest beds to the rooms, bar and even a church of its own.
Although this blockbuster attraction does steal the limelight, there are other things too both within the hotel and outside, to make your holiday a delightful one. Take a stroll down the sole road, Marknadsvägen, to one of the oldest church in the Lapland – Sámi.
By the day, hop onto a dog-sled for a trip to the neighboring forests or take a snow-scooter ride down to the Torne River and into the snow-covered forests.
And, night brings a snowmobile spin for a splendid view of the Northern Lights! Summer activities include fishing expeditions, hunting tours and canoeing opportunities.
9) Kye Monastery, Spiti Valley, India
Lastly, a special mention needs to be made for one of the most unexplored and surreal places in land of diversity, India – the Spiti Valley! Located at a high altitude 4,112-meters, this desert mountain-valley with its tough terrain and harsh weather is a land of splendor and virgin natural beauty.
Accessible only during the summer months between May and October, this area houses the famed 14th Century Kye Gompa – a Tibetan monastery that distinctively reflects the Chinese architectural style.
It is not just the biggest and the oldest monastery in Spiti but also gives a spectacular view of the barren, cold desert mountains around and the beautiful Kye village, nestled on the banks of Spiti River, with its tiny lush-green farms below.
Get immersed in the truly subliminal travel experience!!