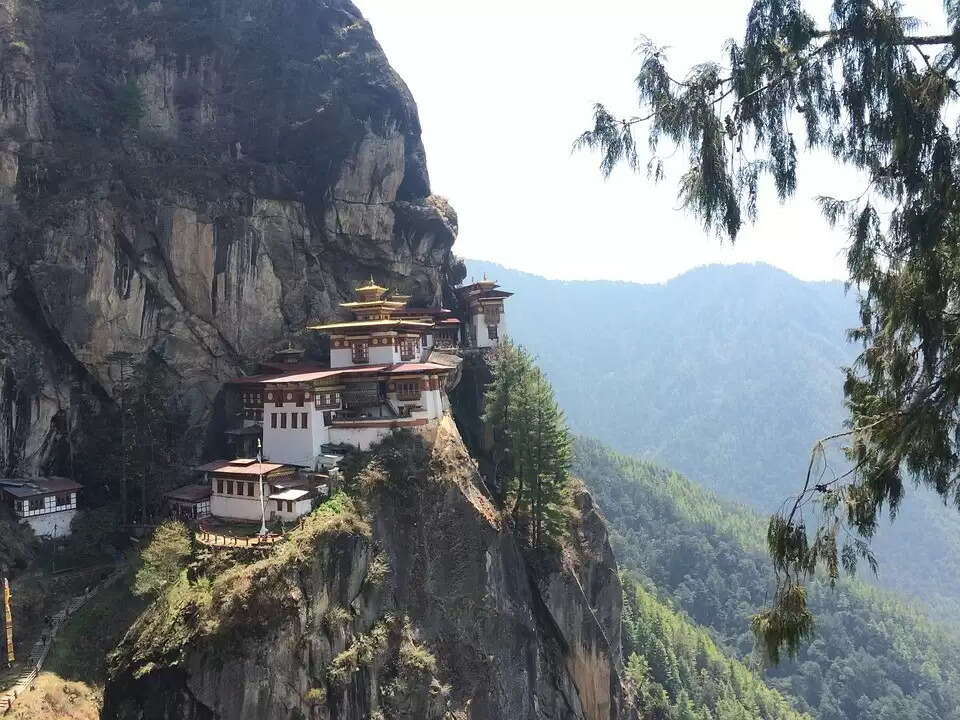 ---
Bhutan or Drukyul (which literally translates to "The Land of the Thunder Dragon") is a tiny landlocked kingdom (almost the size of Switzerland!), situated in the laps of the eastern Himalayas, nestled between India in the South and China in the North.
Having been sequestered from the outside world for centuries, Bhutan has gradually opened its doors to tourism and is yet a virgin destination with a timeless magic about it. Bejeweled with unique traditions and stunning fortresses & monasteries, combined with the existence of an unparalleled biodiversity, this Buddhist kingdom has been acknowledged as the "Global Hot-Spot" by WWF.
Before you embark on your sojourn to this mystical little nation that professes the famous adage "Happiness is a place", let us take you on a quick virtual tour to be better acquainted with what Bhutan can offer you!
Bhutan offers a superlative range of options for every kind of traveler. Perhaps the best way to explore this mountain kingdom is on foot.
The mountains offer unbeatable opportunities for you to walk and trek across the country taking you past tiny villages, temples and monasteries that bespeak of the passage of time, and across mountain passes.
Here are some must-explore things for those visiting the Land of the Thunder Dragon!!
Witness the Bhutanese National Obsession – Archery!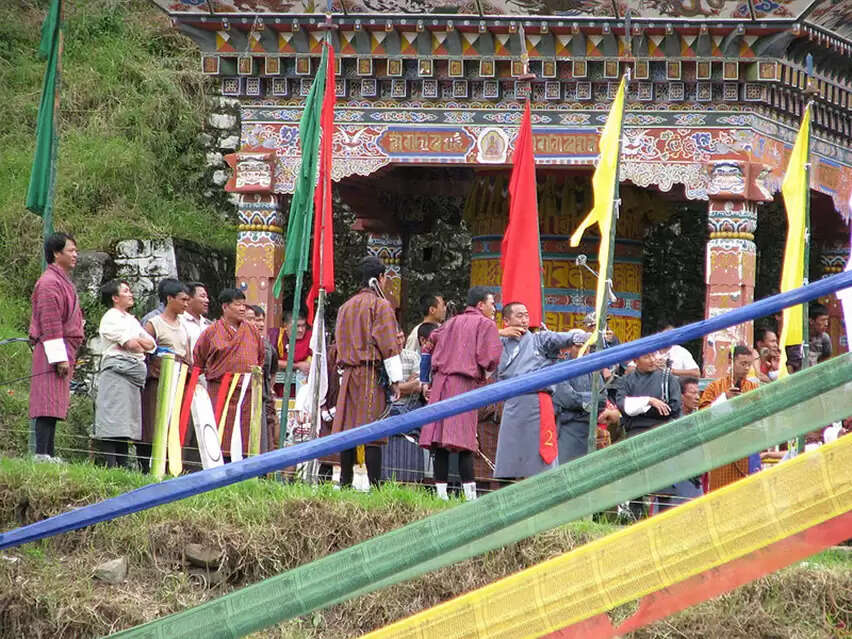 Image credit: By muddum27, via Wikimedia Commons
If you are visiting Bhutan, don't miss witnessing the sport that is a national rave with every Bhutanese!
Yes! Archery is a much-loved sport and a social event for this mountain nation, with archery competitions being rampantly organized across the country in the midst of huge overlooking crowd betting on their favorite local archers.
Traditionally, handcrafted bamboo bows were used, but with advent of technology, carbon fibre bows are a rage these days.
Go Bird Watching in the Jungle-Cloaked Hills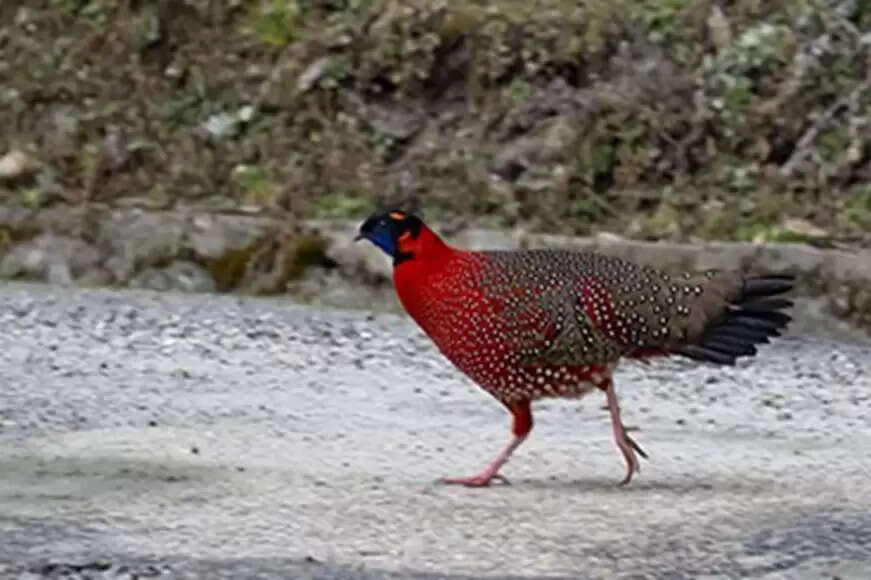 Image credit: Off to Butan
Bhutan has an immensely impressive biodiversity. The innumerable valleys and dense forests that cloak the hills of Bhutan are home to over 600+ species of birds.
Special bird-watching tours are conducted to the various bird sanctuaries across Bhutan by tour operators. Hop on to one of these to catch a glimpse of some rare species.
If bird-watching interests you, October to February is the ideal time to visit Bhutan as this is the time when the rare black-necked cranes flock the valleys of Phobjikha and Bumdeling to roost.
Take a walking trail across either of the two old U-shaped glacial valleys to spot these black-necked beauties.
Dabble In Traditional Arts At Wangdue Phodrang
Wangdue Phodrang, located at the heart of Bhutan, is world-renowned for primarily two things – its castle-like 17th century Dzong, set atop a ridge at the confluence point of two rivers and its traditional art of slate carving and bamboo weaving.
While in Bhutan visit this magnificent seat of Bhutan's most influential Dzongpens.
Trek across the Bhutanese Himalaya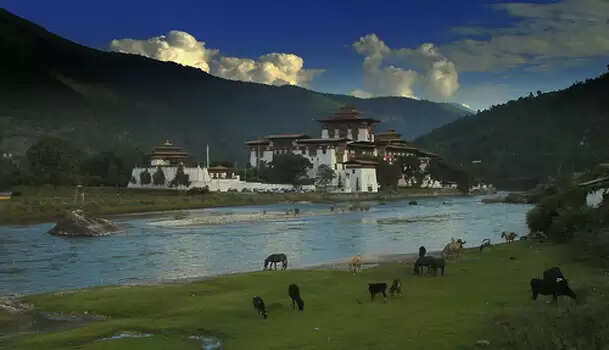 Image credit: http://www.tourism.gov.bt/activities/trek
There's no better way of experiencing the real Bhutan than to see it on foot, along the walking trails that mark its mountainous terrain!
Most of these mountain trails involve climbing mountain passes that offer some of the most scintillating views of the valleys below.
While Snowman Trek is one of the most popular high-altitude routes, it can be a wee-bit costly (given the 25-days trek across the Himalayas!!). You, however, have myriad shorter and inexpensive routes to trek as well.
One of the passes that offer the most breath-taking vista of the Himalayas is the Dochu-la Pass.
Located between Punakha and Thimphu, at a height of 3100m (10,171ft), the Dochu-la Pass is a beautiful memorial crowned by 108 stupas commemorating soldiers who laid their life in the war of South Bhutan in 2003. Another attraction is the Cheli-la Pass, situated at 3810m (12,500ft), which is also the highest motor-able pass in Bhutan.
While on the trek across the Himalayas, do stop by the Chimi Lakhang monastery that offers a unique glimpse into the Bhutanese culture.
Built by the 14th Drukpa hierarch in 1499, this site is considered blessed by the "Divine Madman"- an enlightened Buddhist master and social critic who was revered for his unconventional thoughts and teachings.
Get captivated by the beautiful Bumthang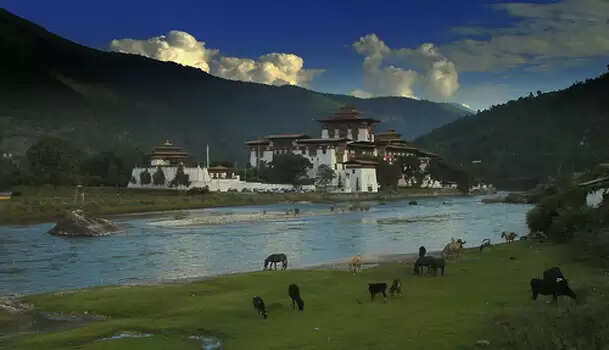 Image credit: nepalhimalayaguide.com
The beautiful Bumthang, situated at the confluence of four scared valleys, is set amidst sublime mountain backdrop and it is the home to a string of ancient monasteries set in the midst of enchanting little country towns.
From Bumthang, trek across to one of the most significant settlements of Bhutan -Jakar and then further to explore the scenic beauty of Chokhor Valley that lies intercepted with several ancient chortens.
Enjoy the Bhutanese affiliation for vibrancy at Punakha
Image credit: By Jean-Marie Hullot - via Wikipedia
Bhutanese are known for their affiliation for colours, much evident in every aspect of their lifestyle be it clothes, their buildings and monasteries with multi-colored roofs and walls or the general fauna-flora.
Set in the midst of this colour-bestridden scenery is Punakha - the older administrative center and the seat of Bhutanese government before Thimphu became the capital city in 1955.
Punakha is best known for Punakha Dzong, the second Buddhist monastery built in Bhutan by their Father of Nation, Ngawang Namgyal.
This place sits at the confluence of Pho-Chu and Mo-Chu rivers and is atmospheric with vibrantly-coloured jacaranda trees that skirt it.
Tashi-Yangtse Calling!!
Image credit: By ©Christopher J. Fynn / Wikimedia Commons
If you are looking for a place far from the maddening crowd, the remote valleys of Tashi-Yangtse, straddled with rice paddies and ancient chortens, are a perfect choice!
Catch a glimpse of Bhutanese women spinning at their thresholds as you roam this area! Another highpoint of this tranquil alcove are the paper workshops conducted here.
Drive Up to Drametse Goemba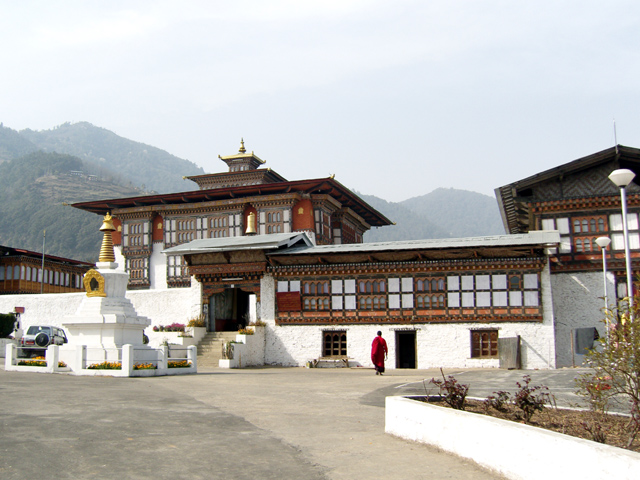 Image credit: windhorsetours.com
Enjoy the spectacular view driving up along a dirt trail to Drametse Goemba - one of the most prominent monasteries of eastern Bhutan.
This monastery is studded with golden figurines of Buddha and other Buddhist curios and is known for the unfurling of the massive thangka painting, Thondrol, every November.
Celebrate with the Tsechu Festival in Paro
By Stephen Shephard - Own work, CC BY-SA 3.0, via Wikipedia
Priding itself for having the lone airstrip in Bhutan, Paro is a typical Bhutanese country town with all its hustle-bustle.
Wander around Paro, visiting one of the finest historical monuments -Paro Dzong and the National Museum, before heading to Taktsang Goemba or Tiger's Nest, a Buddhist pilgrimage, in Paro Valley.
Among the top must-do things in Bhutan is a trek to this revered monastery that precariously sits on the face of a 900m cliff.
If you are lucky to be in Paro around the time of the Tsechu festival, you get to witness a spectacular confluence of all the nation's goembas and dzongs, donning some really colourful garbs and monster masks, and hosting animated dance festivals or Tsechus to the rhythms of the drums , trumpets and gongs.
A little distance from Paro, lies Trongsa, the largest monastery in Bhutan, that makes an imposing profile juxtaposed against the hills.
Trongsa is also the Royal family's ancestral home and houses a museum in one of its watchtowers, and some two dozen chortens. Get a taste of royalty at the Trongsa Dzong!
Explore the Historic city of Thimphu
Image credit: By ©Christopher J. Fynn / Wikimedia Commons
Last, but definitely not the least, is a visit to the capital city in the mountain kingdom – Thimphu.
Spread across a broad valley in west Bhutan, Thimphu is an essential stop for its unbeatable historic spectaculars that includes among others the magnificent fortress-monastery of Tashi Chho Dzong that is not only among the largest monasteries in the country but also houses the government ministries along with the king's throne.
This colossal monastery is home to about 1600 monks and is presided over by the chief abbot or Je Khenpo of Bhutan.
Thimphu has many other attractions worth a look.
Stop by the National Institute of Zorig Chusum campus to see local artisans live at work or simply visit the weekend souk to check out their wares that include Bhutanese handicrafts such as intricately embroidered shawls, Buddhist masks, Thangka paintings and spools of prayer flags, that bespeak of fine ancient and traditional arts.
You must also visit the world-famed Memorial Chorten, with its giant prayer wheels, and the magnificent statue of Buddha seated at the highest point of Thimphu, while you are here.
Keep an afternoon for a visit to the National Zoo to meet and click Bhutan's national animal -Takin – a unique looking animal that resembles a goat's head and a cow's body!
Hitch hike and get acquainted with the locals for an ultimate experience of Bhutanese cuisine, especially the local fermented millet beverage -Bhang-Chhang that tastes like an odd mix of beer and coconut water and leaves a sour after-taste.
Bhutan and its people are known for their simplicity and hospitality. Visit the mountain kingdom this season and earn your Gross National Happiness with this kingdom of happiness!