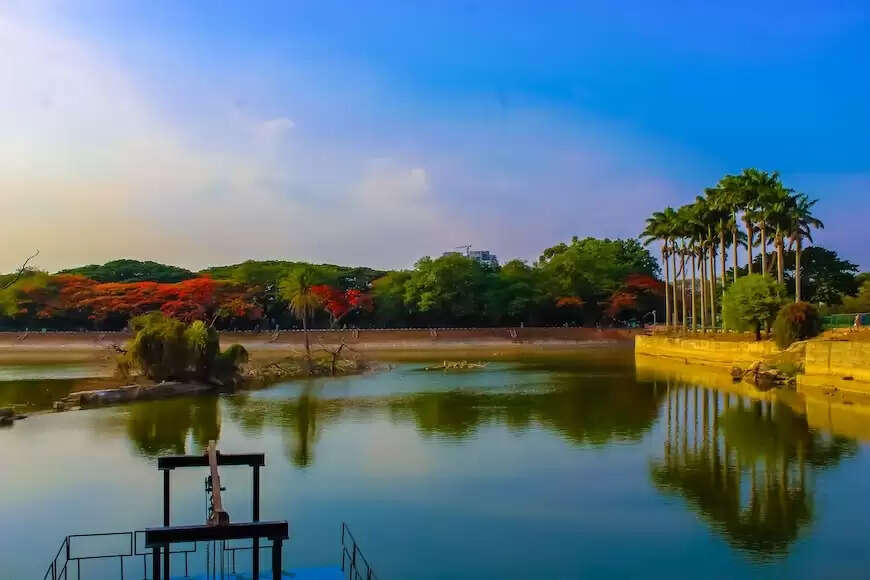 ---
Bangalore is not just the IT hub or the garden city of our nation; it is full of surprises for the tourists and even locals who would like to rediscover this amazing city.
From authentic south-Indian restaurants to Pubs with delicious craft beers, markets full of knick-knacks, the architectural wonder of historical monuments, there is much more to discover in this amazing city.
Things to explore while visiting Bangalore:
Cubbon Park
To enjoy the unique weather of the city this is the best destination that is dubbed as the forest in the central part of the city.

Spanning about 300 acres it is famous for its diverse flora and fauna.

Whether it is a leisurely stroll or picnic, book club meets or yoga sessions you can experience a lot amongst the scenic beauty that this place has to offer.
Address: Kasturba Rd, behind High Court of Karnataka, Ambedkar Veedhi, Sampangi Rama Nagar
Timings: 6:00 am – 6:00 pm (Monday-Sunday)
Entry: Free
Death by Chocolate at Corner House
A delight for all the chocolate lovers who like to enjoy their chocolate ice cream in numerous variety, chocolate brownies, nuts, cherries, chocolate layers on sundae and a lot more.

Do check out the popular options: salted caramel ice cream, peach-melba, and litchis and cream.
Address: No 4, State Bank of India Rd, Shanthala Nagar, Ashok Nagar
Contact: +91 98459 30618
Timings: 11:00 am – 11:00 pm
Vidyarthi Bhavan
Serving its customers since past 80 years with delectable delights is sure something to visit and wow your taste buds.

You will definitely enjoy the golden dosa served with potato or sagu filling, other famous dishes that you can enjoy are medu vada, kesari bath, poori sagu, and rava vada.

Remember to sip the most famous filter coffee that is a part of the culinary culture here.

It's advisable that you arrive early to beat the rush.
Address: 32, Near Gandhi Bazaar Circle, Basavanagudi, Bangalore
Contact: +91 80266 77588
Timings: 6:30 am – 12:00 pm; 2:30 – 8:00 pm (Saturday-Thursday; closed on Fridays)
Blossom's or The Bookworm
Majority of the population in Bangalore are literary enthusiasts discussing everything that stimulates them cerebrally.

The Blossoms book house is popular for having hordes of second-hand books of every author and every available genre possible that too at affordable prices.

You will enjoy the beautifully done up interiors with large wooden-shelves that takes you back to the golden time when books were all we had, prior to internet of course.

The bookworm too is an amazing place to enjoy reading while sitting in silence, you will find quite interesting books here and so you will enjoy browsing through the collection.
Address: Church St, Shanthala Nagar, Ashok Nagar
Timings: Blossom's Book House – 10:30 am – 10:00 pm (Monday-Friday)
10:00 am – 10:30 pm (Saturday-Sunday)
The Bookworm – 10:00 am – 9:00 pm (Tuesday – Saturday)
9:30 am – 9:00 pm (Sunday-Monday)
National Gallery of Modern Art
For art lovers and for those who seriously study arts, this is the best place to be, learn all about the art that this city has to offer.

The collection of art is inclusive of international and homegrown creators, you will enjoy looking at collections by Amrita Shergill and Rabindranath Tagore, housed permanently at the gallery.

Artists are given the opportunity to set up installations that includes metaphysical works of art.

You can choose guided walks and even workshops that are offered here.

You can enjoy dance performances, film screenings and seminars, for this you will have to check out the itinerary for the day.
Address: 49, GF, Manikyavelu Mansion, Palace Rd, Vasanth Nagar
Contact: +91 80223 42338
Timings: 11:00 am – 6:00 pm (Tuesday-Sunday)
Entry: INR 30 approx. for Indians, INR 500 for foreign nationals, free for students (ID mandatory)
Bangalore Palace
Enjoy the stunning 19th – 20th century artwork by Raja Ravi Varma a well-known personality in art history.

You will learn a lot about the lives of Wadiyar Dynasty – former rulers of Mysore, art displaying their life chronicles is interesting to look at and observe.

Enjoy the plush interiors and walking through the wide courtyard that hosts cultural events.

You can choose to get an audio guide as per your native language available here.
Address: Vasanth Nagar, Bengaluru
Timings: 10:00 am – 5:30 pm (Tuesday-Sunday)
Price: INR 230 for Indians and INR 460 for foreign nationals
Shopping Scenes at Commercial Street
Enjoy shopping at the by lanes of commercial street that is laden with literally everything that you can buy or are looking for.

Souvenirs, stunning jewelry, denims, stationary and even tattoos and piercings.

Enjoy the street food that this street has to offer and be sure that you try out the bondas, potato chaat and coconut water.
Address: Commercial Street
Timings: 10.30 am – 8.00 pm (Monday-Sunday)
So, next time, when in Bangalore, add some local flavor to your itinerary with these experiences. Happy Travels!
Image Credit: Mohit Suthar on Unsplash