Inside Kapil Sharma's palatial farmhouse in Punjab and his luxurious home in Mumbai
---
Kapil Sharma is an Indian stand-up comedian, producer, television presenter, and actor. He was born on 2nd April 1981 in Amritsar Punjab. In the world of family entertainment and comedy on Indian television, Kapil Sharma had made himself popular among the spectators.
He has a great fan following nationally and internationally, and now he is one of the most loved comedians in the country. At the Madame Tussauds Wax Museum, one can see his wax statue too. In the comedy world, he started his journey with his first show, The Great India Laughter Challenge. This show gave a boom to his career, and since then he never looked back.
Kapil Sharma gained more fame with his show, Comedy Nights with Kapil that started in 2013. The show full of his incredible comedy and talent brings smiles to the faces of millions of viewers.
This piece of entertainment became one of the highest-rated shows on television globally. The rising popularity of this show gave the ace comedian an entry in Forbes' highest-paid celebrity list. For Comedy Nights with Kapil, he charges around INR 80 to 90 lakhs per episode, which is high than the fees taken for event appearances and brand endorsements.
But sadly, this show came to a halt just after two years because of an ugly spat between his team members. Later, he came back with another season and left no stones unturned to make his show popular. In the year 2013, he won the CNN-IBN Indian of the Year award for his work in the entertainment industry. In September 2015, President Pranab Mukherjee invited him to the Rashtrapati Bhavan to appreciate his donation to the Swachh Bharat Abhiyan.
After this, he signed one more show with Sony Entertainment Television, The Kapil Sharma Show. He made his debut in Bollywood in 2015 as the male lead in the movie Kis Kis Ko Pyaar Karoon. On 12th December 2108, he tied the knot with Ginni Chatarth in Jalandhar.
He owns a bungalow in his native city, Punjab, and has multiple properties in Mumbai. From a stupendous lawn right in front of his bungalow in Punjab to an exotic living room in Mumbai home, he pulls out all the stops in making his abode a dreamy residence.
Here is a glance inside Kapil Sharma's exorbitant properties in Punjab and Mumbai:
Kapil Sharma's Elegant Mumbai Residence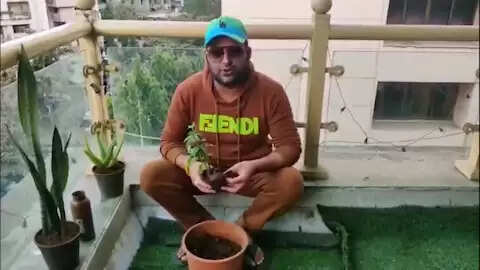 Kapil Sharma's elegant Mumbai residence: Kapil Sharma house is nestled in DLH Enclave in Andheri West, which is in a bylane of Mumbai outskirts. The interior of the home has a great combination of fixtures and modern artifacts. It seems like he built his sweet home on a retro theme with contrasting vases with a silver high-backrest chair, an elegant candle-stand, and a popping wall color.
Here are a few more details about his house:
Balcony: Kapil Sharma's home in Mumbai has a long balcony where the comedian-actor is often seen doing the gardening. A faux grass carpet covering the balcony's floors gives a garden feel and looks more like it.
Living room: The massive living room of his home is rustic theme-based. The room has mahogany wood flooring with vases attached to the corners, which gives a fresh garden environment feel in the house.
The beautiful view of the city could be seen from the windows. From the privacy point of view, he used drapes for the windows. Along with this, he had a study room which is all on a golden and white theme. A beautiful chandelier on the ceiling and light lamps on the corners make it more gracious.
Dining room: He has an elegant and huge dining room that overlooks the garden of his sweet home, and the glass window separates both. It is white theme-based with bricked walls. The area has his favorite metallic color seating at one side with unique starry lights hanging on the ceiling.
According to reports, his elegant house cost him approximately INR 15 crores.
2. Kapil Sharma's farmhouse in Punjab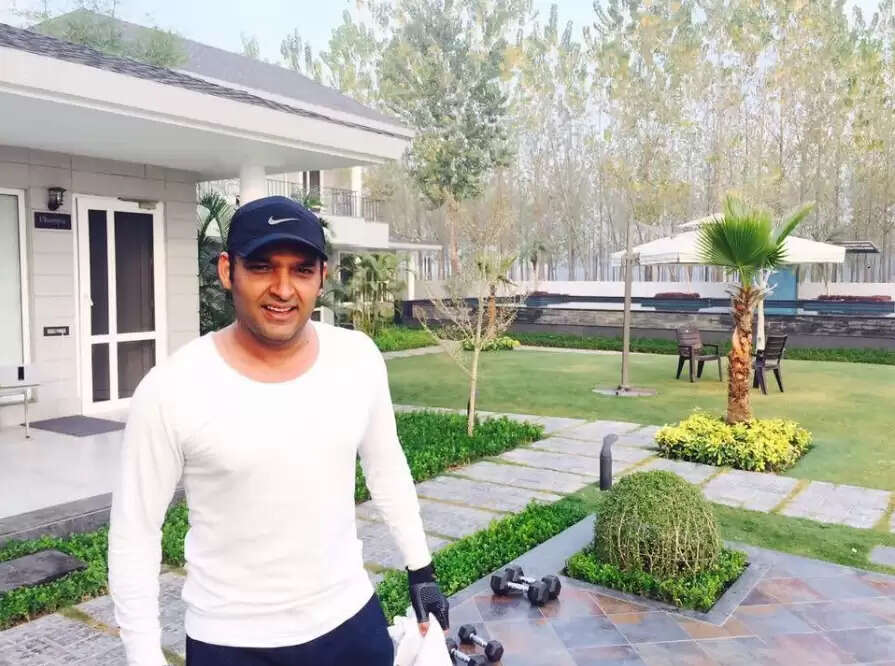 Kapil Sharma also owns a luxurious farmhouse in Amritsar, Punjab. It is like an ideal holiday destination for Kapil and his wife, Ginni Chatarth. Whenever they want to take a break from their busy schedule they visit the farmhouse with their family to refresh their mood and to enjoy the beauty of the place.
This grandiose property looks cozy and magnificent, with a lawn, lots of greenery, beautiful exteriors, and a front porch. From the flooring to the chandeliers, the interiors of the mansion oozes elegance and looks lavish. An Arabic-style carpet with a brown sofa set features the living room. The entire space is complemented with massive glass windows. Outside the house, it also has a swimming pool and a gazebo.
The farmhouse has an estimated price of INR 25 crores.