6 Health Benefits of Drinking Butterfly Pea Tea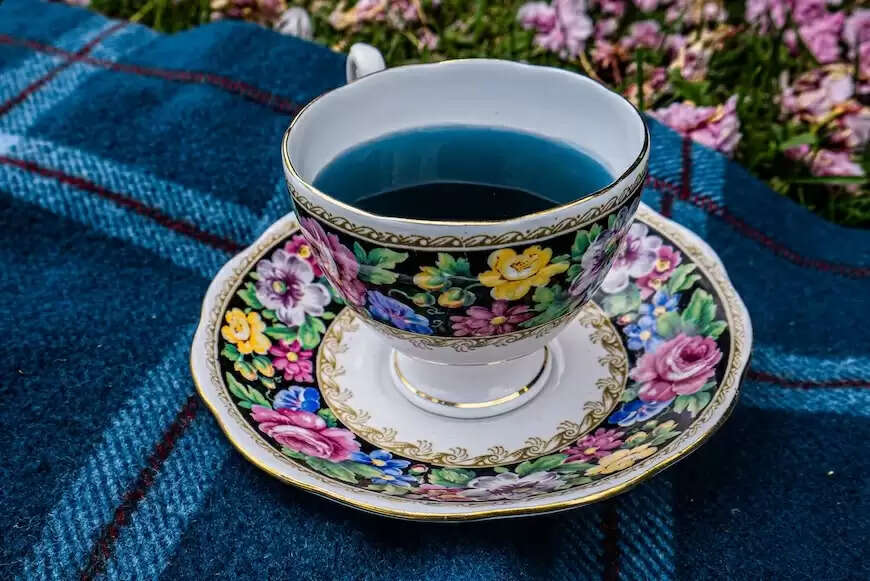 ---
Tea is not just your average or daily beverage that energizes you or refreshes you. With numerous variations available in the market, it is more of a 'health drink' given all its aesthetics.
When it comes to consumption of healthier version of tea, the latest in the dietary recommended chart is Butterfly Pea Beverage.
Also known as the Blue Tea, it is said to have some amazing health benefits. Let us find out what makes it the most likeable and trending that everyone is vying to include this beverage in their dietary cycle.
What is Butterfly Pea beverage?
The Butterfly Pea beverage or the commonly known Blue Tea is trending amongst health enthusiasts.
Blue Tea is a caffeine-free herbal drink made by infusing dried or fresh leaves of the Clitoria ternatea plant. The name blue tea is more common due to its striking blue color that resembles the color of twilight hours.
There is a long history of using blue tea in Vietnam, Thailand, Bali, Malaysia, as well as in other countries and its health benefits are several.
Health benefits of Butterfly Pea Tea/Blue Tea
Helps in weight loss:
Due to the phenolic compound called catechins that is an antioxidant, it helps in burning that extra fat.

It also helps in enhancing metabolism that is yet another factor helping in weight loss.

It is a natural diuretic drink that helps reduce bloating and shed water weight.

Maintains blood pressure that aids in lowering the risk of heart failure.
Enhances mood:
It enhances the mood of the one who drinks it bringing peace of mind.

Helps in fighting stress and anxiety by immediately helping you feel good.
Prevents diabetes:
Prevents diabetes as it contains antioxidants that help in reducing insulin and blood sugar levels.

Antioxidants in the tea are known to protect the cell from damage.

Manages fatty liver issues.
It may aid in preventing certain type of cancer:
Butterfly pea flowers are naturally infused with terminations that are a kind of anthocyanin (antioxidant) compounds.

Other antioxidant present in these flowers is called kaempferol that are known to fight cancer as it prevents cell growth.

While it has not been fully established, but a range of antioxidants are also found to be beneficial in preventing cancer, according to health experts.

The tea is known to be full of yet another antioxidant called Delphinidin-3, 5-glucoside it helps stimulate immune function. This may be helpful in killing colorectal cancer cells.
Anti-ageing agent:
Highly beneficial for skin due to the high dose of antioxidants that in-turn helps in age arrest or act as anti-ageing agent.

It helps provide a youthful and rejuvenated glow all thanks to the presence of its anti-glycation effects.

With the presence of flavonoids collagen production is enhanced that gives the skin a radiant glow and maintains the skin elasticity.

Due to the special properties of stress releasing agents in the tea it ensures that the skin remains hydrated and plump.
Ensures a healthy scalp:
Anthocyanin is the compound present in the tea that helps in enhanced blood circulation in the head. A healthy scalp requires proper blood circulation that makes the follicles stronger.

Hair growth is promoted with thick and lustrous hair without split ends and reducing brittle hair problems.
With so many known benefits now you must be wondering as to how to consume it, well here is how to go about it:
Add 1 teaspoon of the tea to a cup of hot water.

Steep for 15 minutes, add lemon (it gives a brilliant purple color if that's what you like) or add honey for extra flavor.

You can replace honey with maple syrup.

Consume it as a latte or add coconut/ almond milk as per your choice.
Medical Disclaimer: The information and reference materials contained here are intended solely for the general information of the reader. Patients and consumers should review the information carefully with their professional health care provider. The information is not intended to replace medical advice offered by physicians. You should consult your physician before beginning a new diet, nutritional or fitness program. The publisher or its management do not claim responsibility of this information.