4 Indian Alcohol Brands You May Want To Add In Your Bar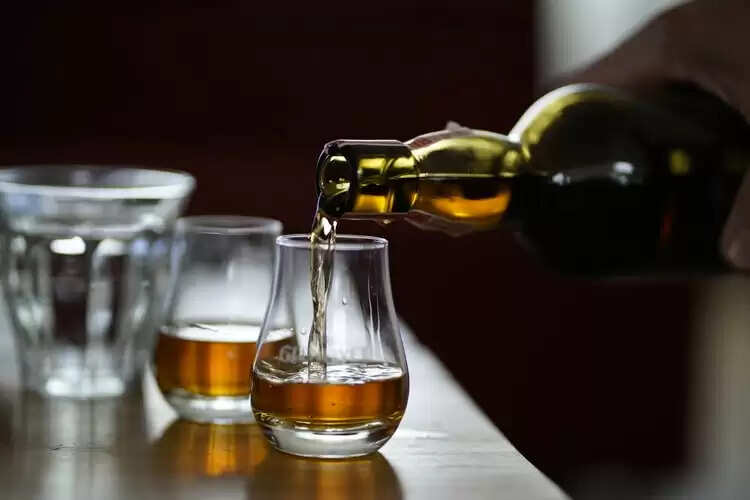 ---
It's not just a glass of beer or wine. It can be something more than that for your next drink! The trend now is to include liquor in any celebration and it has become an integral part of becoming social, whether you want refreshment with friends after hours from work; need some extra happiness at home because everyone else seems busy but still haven't had time off yet this week—or are celebrating something special like bachelor/ette pad level-up party?
But, it is challenging to choose the right liquor brand for the right occasion as there are numerous alcohol brands available in the market.
The growth of Indian alcohol brands has been on the rise recently. The popularity for liquor and other alcoholic drinks are at an all-time high, with festival season just around the corner! So, If you want to spruce up your minibar at home, we recommend adding some of these brands.
1. Black Bow Himalayan Whiskey
Black Bow Himalayan Whiskey is one of the premium malts crafted by Ginglani Distillers in Himachal Pradesh. In a short span of time, this Indian whisky has become a great hit in the Capital, and now the distillery of this liquor is planning to launch a second blended whisky. The upcoming spirit will be called 'Woodsmen,' which will hit the market in the semi-premium segment.
It is also claimed that the Black Bow Himalayan Whiskey will be available in regions beyond the northern belt very soon.
Known for its exceptional flavor and affordable price, Black Bow Himalayan Whiskey is one of India's most loved Indian alcohol brands.
Current approximate Price*: INR 900 for 750 ml in Delhi
2. Amrut- Single Malt Whiskey
Another best Indian alcohol brand on our list is Amrut, the first single-malt whisky of India. It is one of the popular Indian liquors, which has scored a rank in the top 10 whiskeys worldwide. Launched in 2004, the Amrut-Single Malt Whiskey has been prepared with the barley sourced from the foothills of the Himalaya. The unique flavor and distinct color of this drink are what makes it special and different from others. Moreover, it is sold in 11 different variants.
Manufactured by the Amrut Distilleries Pvt. Ltd in the state of Karnataka, this first single-malt whiskey of India is made with wholesome Barely. The name 'Amrut' is derived from the Sanskrit word 'Amrit,' which means "nectar of the gods" or "drink of the gods." As the name suggests, Amrut will undoubtedly give you a taste of heaven.
Current approximate Price*: INR 3,500
3. Desmond Ji- Tequila
Desmond Ji is a home-grown liquor that has a fantastic taste like any Mexican liquor. It is one of the highly liked Indian liquor distilled and manufactured in Goa by Desmond Nazareth. It can be enjoyed in Margaritas and in or with any classic cocktails and can be served separately also.
The alcohol brand is made with blue-green agave sourced from the Deccan Plateau. Five spirits, including Agave Gold with an oak finish, Blue Margarita blend, Margarita, Agave (100%), are being produced by this top-shelf alcohol brand. The best part is its price. Desmond Ji has a very affordable price, and one can buy it across Mumbai, Goa, Pune, Delhi, and Bangalore.
Current approximate Price*: INR 800
4- Wild Tiger- Rum
The India based alcohol- Wild Tiger Rum is prominently loved and preferred for its different taste. It is the first premium rum of India. It has a unique flavor which is the result of the combination of molasses and pure sugar cane spirits aged in ex-Bourbon oak wood casks.
If your go-to spirit on a tiring day is rum, we would suggest you try something new and take a sip of the renowned Wild Tiger Rum. Not only its taste but the eye-catching packaging of the bottle will itself lure you towards it. It has gathered praise from enthusiasts. Additionally, if you are not sure what to gift your friend on occasions like birthdays, parties and promotions, Wild Tiger Rum will make the best gift for your loved one.
Besides, when it comes to Wild Tiger Rum, it's not just about booze and personal use, but the brand also gives a hand in protecting the tigers across the country. The brand donates 10% of Wild Tiger's profits to the Wild Tiger Foundation to save Tigers around the world. Switching to Wild Tiger Rum will not only enhance your rack or bar, but you will be participating in the conservation of tigers.
Current approximate Price*: INR 2,000
*Prices are subject to change as per local state and country laws and levies and other factors.
Disclaimer: This article is intended only for responsible adults of legal drinking age. It is purely intended for information purposes. The publisher and its management do not, under any circumstances, accept responsibility for any damages that result to yourself or anyone else due to the consumption of alcoholic beverages or the use of this site and any materials located on it.